Fear ye not therefore, ye are of more value than many sparrows. Matthew 10:31
Seasonal Theme: Peace with Justice
Hearing God's Word speak to us about Justice through the Bible Lectionary readings each week through Reign of Christ Sunday (Nov. 22).
View or Print the Bulletin with Song Sheet:
2020-06-21 Father's Day & 3rd Sunday after Pentecost

WAYS TO CONNECT
BY PHONE OR COMPUTER
One tap on a mobile phone:
+19292056099,,377073712#
Or call one of these numbers:
929-205-6099, 253-215-8782,
301-715-8592, 669-900-6833
When prompted, enter the
Meeting ID: 377 073 712
Or, to participate with video:
zoom.us/j/377073712
Or, Download the "Zoom Cloud Meetings" app
---
Online meeting opens at 4:45 pm
so we can greet each other as we gather
before the 5 pm worship service.
WELCOME
BIRTHDAYS & ANNIVERSARIES
June 21-27
Birthdays
22 Kyler Hodges
23 Don Catiller
24 Paula Stover

Anniversaries

ANNOUNCEMENTS
Wednesday Bible Study, 6:30 pm — Ephesians 2
Online Interactive Worship at 5 pm each Saturday
Online Interactive Sunday School at 9 am each Sunday
In Person Worship at 11 am each Sunday
The host will mute everyone except the leader during hymns and longer unison prayers so we can all sing and speak together without the distraction of various lag times. Otherwise, sound will be on for all participants so we can interact freely throughout the service (exception: disruptive background noises).
INVOCATION
HYMN OF PRAISE
"Faithful God, You Sent Your Spirit"
Tune: Come, Thou Fount of Every Blessing
1, Faithful God, you sent your Spirit
Long ago at Pentecost.
You gave life and said to share it,
All as one, beneath your cross.
May we see your wondrous blessing
When your people everywhere
Work together, all confessing
Faith that binds us, faith to share.
2. God of hope, you daily nurture
Those who seek to follow you.
You're not bound by any culture;
You love rich and poor ones, too.
In an ever-changing nation,
May your churches welcome in
Every child of your creation,
Giving hope to all again.
3. God of love, may we in worship
Welcome our diversity.
May we reach in trust and friendship
To the poor and refugee.
May we see Christ in the stranger,
Breaking bonds of hate and fear.
By your Spirit, may we offer
Glimpses of your kingdom here.
Biblical References: Acts 2:1-21; John 17:11-18; Matthew 25:35-40, 28:19; Galatians 3:28 Text: Copyright © 2008 by Carolyn Winfrey Gillette.

PRAISE AND TESTIMONIES
Briefly share your recent God-Sightings, joys, thankfulness, and good thoughts so the rest of us can rejoice with you.

PRAYER CONCERNS
We remain in solidarity with suffering children, immigrants, victims of war and storms, and everyone affected by the COVID-19 pandemic.
Bishop McAlilly requests prayer
at noon daily for health care workers.

Additions from Last Week
Steve Walker, Rick Blanchard, Dianne Stallion, Mike Henrich,
Carolyn Farmer, Loretta Sue, Family of Dorothy Menser
Health Care Workers
Ron Fowler, Melissa Milam, Donna Smith, Greer Waldrop
Homebound
Freda & Dan Wyatt, Mary Lou Anderson, Betty Travis,
Carl Hamilton, Ruth Purvis, Will Lawson, Bruce Gillette
Military Families
Ron Fowler, Dylan Field, Kale Merrick, Matthew Petway, Sarah Petway,  Randy Bagwell, Christopher Telle, Brittany Jones, Bryar Fortner
Ecumenical Prayer Cycle for June 21-27:
Kenya, Tanzania
PRAYERS OF THE PEOPLE
God of All Children Everywhere,
Our hearts are bruised when we see children suffering alone.
Unite us in solidarity,
for suffering children everywhere! 
Our hearts are torn when we are unable to help.
Our hearts are broken when we have some complicity in the matter.
Unite us in solidarity,
for suffering children everywhere! 
PRAYER OF CONFESSION
AND RECONCILIATION
Brief silent consideration of how we have responded to our personal and congregational opportunities to do good, as we face ourselves honestly in the presence of the Almighty.
WORDS OF ASSURANCE
May Almighty God have mercy on us
to bless our good works
and forgive us our sins,
and lead us into everlasting life.
PASTORAL PRAYER
THE LORD'S PRAYER
Our Father which art in heaven,
Hallowed be thy name.
Thy kingdom come,
Thy will be done in earth,
as it is in heaven.
Give us this day our daily bread.
And forgive us our trespasses,
as we forgive those
who trespass against us.
And lead us not into temptation,
but deliver us from evil:
For thine is the kingdom,
and the power,
and the glory,
for ever. Amen.
OFFERTORY
www.Briensburg.org/donate
We give thanks for those who are continuing their financial support of our ministries with online, mail-in, or drop-off tithes and offerings.
We offer to the Lord our prayers,
our presence, our gifts,
our service, and our witness,
praying they will be multiplied
for the upbuilding of God's kingdom.
DOXOLOGY
Praise God from Whom all blessings flow!
Praise God all creatures here below!
Praise God above, ye Heavenly host!
Praise Father, Son, and Holy Ghost!
CCLI Song # 56204 CCLI License # 3194034
Louis Bourgeois | Thomas Ken
© Words: Public Domain Music: Public Domain
THE GOSPEL READING
Matthew 10:24-39
24 The disciple is not above his master, nor the servant above his lord.
25 It is enough for the disciple that he be as his master, and the servant as his lord. If they have called the master of the house Beelzebub, how much more shall they call them of his household?
26 Fear them not therefore: for there is nothing covered, that shall not be revealed; and hid, that shall not be known.
27 What I tell you in darkness, that speak ye in light: and what ye hear in the ear, that preach ye upon the housetops.
28 And fear not them which kill the body, but are not able to kill the soul: but rather fear him which is able to destroy both soul and body in hell.
29 Are not two sparrows sold for a farthing? and one of them shall not fall on the ground without your Father.
30 But the very hairs of your head are all numbered.
31 Fear ye not therefore, ye are of more value than many sparrows.
32 Whosoever therefore shall confess me before men, him will I confess also before my Father which is in heaven.
33 But whosoever shall deny me before men, him will I also deny before my Father which is in heaven.
34 Think not that I am come to send peace on earth: I came not to send peace, but a sword.
35 For I am come to set a man at variance against his father, and the daughter against her mother, and the daughter in law against her mother in law.
36 And a man's foes shall be they of his own household.
37 He that loveth father or mother more than me is not worthy of me: and he that loveth son or daughter more than me is not worthy of me.
38 And he that taketh not his cross, and followeth after me, is not worthy of me.
39 He that findeth his life shall lose it: and he that loseth his life for my sake shall find it.
HYMN OF CELEBRATION
"Freely, Freely"
1. God forgave my sin in Jesus' name
I've been born again in Jesus' name
And in Jesus' name I come to you
To share His love as He told me to
Chorus
He said freely freely
You have received
Freely freely give
Go in My name
And because you believe
Others will know that I live
2. All pow'r is giv'n in Jesus' name
In earth and heav'n in Jesus' name
And in Jesus' name I come to you
To share His pow'r as He told me to
Chorus
He said freely freely
You have received
Freely freely give
Go in My name
And because you believe
Others will know that I live
CCLI Song # 13209 CCLI License # 3194034
Carol Owens © 1972 Bud John Songs, Inc. (Admin. by Capitol CMG Publishing)

PASSING THE PEACE
May the peace of Christ be with you all!
And also with you!
PRAYER FOR ILLUMINATION
CONVERSATIONAL SERMON
"JUSTICE: The Value of Life"
Everyone is invited to share as the Pastor leads a discussion of these sermon points.
Don't be afraid
Don't be intimidated. Eventually everything is going to be out in the open, and everyone will know how things really are. So don't hesitate to go public now. (Matthew 10:26-27, MSG)
God will take care of us
Don't be bluffed into silence by the threats of bullies. There's nothing they can do to your soul, your core being. Save your fear for God, who holds your entire life—body and soul—in his hands.  (Matthew 10:28, MSG)
Some people devalue life
For only a penny you can buy two sparrows  (Matthew 10:29a, GNT)
All life is precious to God
Yet not one sparrow falls to the ground without your Father's consent.  (Matthew 10:29b GNT)
Every detail of our lives is important to God
 God cares what happens to it even more than you do. He pays even greater attention to you, down to the last detail—even numbering the hairs on your head! So don't be intimidated by all this bully talk. You're worth more than a million canaries. (Matthew 10:30-31, MSG)
HYMN OF DEDICATION
"Together We Serve"
To the tune of "Love Divine, All Loves Excelling"
1. Together we serve united by love
Inviting God's world to the glorious feast
We work and we pray through sorrow and joy
Extending Your love to the last and the least.
2. We seek to become a beacon of hope
A lamp for the heart and a light for the feet
We learn year by year to let love shine through
Until we see Christ in each person we meet.
3. We welcome the scarred the wealthy the poor
The busy the lonely and all who need care
We offer a home to those who will come
Our hands quick to help our hearts ready to dare.
4. Together by grace we witness and work
Remembering Jesus in whom we grow strong
Together we serve in Spirit and truth
Remembering love is the strength of our song.
Biblical References: Matthew 4:18-22, 10:1-41; Luke 8:1-3, 10:38-42; John 3:1-17, 4:1-42, 6:9, 19:25-27, 11:17-27; Acts 9:1-22; 2 Timothy 1:5
Text: Copyright © 2002 by Carolyn Winfrey Gillette. All rights reserved.

"Go ye into all the world,
and preach the gospel to every creature."
Jesus, Mark 16:15
INVITATION TO CHRISTIAN DISCIPLESHIP
We invite you, your friends, and your family to a relationship with God in Jesus Christ, and to full participation and membership in our congregation. 
GOING FORTH TO LOVE OTHERS
AS CHRIST LOVES US
CHORAL BENEDICTION
"Beloved, Let Us Love One Another"
Beloved let us love one another
For love is of God and ev'ryone that loveth
Is born of God and knoweth God
He that loveth not knoweth not God for God is love
Beloved let us love one another
First John four seven and eight
CCLI Song # 26344; CCLI License # 3194034
Dennis Ryder
© 1974 Universal Music – Brentwood Benson Publishing (Admin. by Brentwood-Benson Music Publishing, Inc.)
---
Briensburg UMC Statement of Inclusiveness
We invite everyone to share fully in the worship services, life, ministry, and leadership of Briensburg United Methodist Church inclusive of age, race, nationality, gender, LGBTQ, theology, politics, and legal status.
Books About Race: A Place to Start
As United Methodists are being urged to take action against the sin of racism, one place to begin is to educate ourselves by reading books from a variety of perspectives.
Council of Bishops statement on Racism
"For at least the next 30 days, we ask every United Methodist everywhere to join in prayer at 8:46 a.m. and p.m. for 8 minutes and 46 seconds, the time the officer held his knee on George Floyd's neck. Do this for at least the next 30 days. Pray for all persons of color who suffer at the hands of injustice and oppression. Pray for our church as we take a stand against racism. Imagine the power of a concert of prayer heard around the world."
A Pastoral Letter to United Methodists of the Southeastern Jurisdiction
Posted by Bishop McAlilly
The Pandemic of Racism
by Bishop McAlilly
Inclusive of Race
"We recognize racism as sin."
(Social Principles: The Social Community)
– Book of Resolutions: A Charter for Racial Justice Policies in an Interdependent Global Community
– What the Church Says: Racism
– The General Commission on Religion and Race (GCORR) focuses on bringing about full and equal participation of the racial and ethnic constituencies in The United Methodist Church. The commission carries out its work through advocacy of the issues and by reviewing and monitoring the practices of the denomination.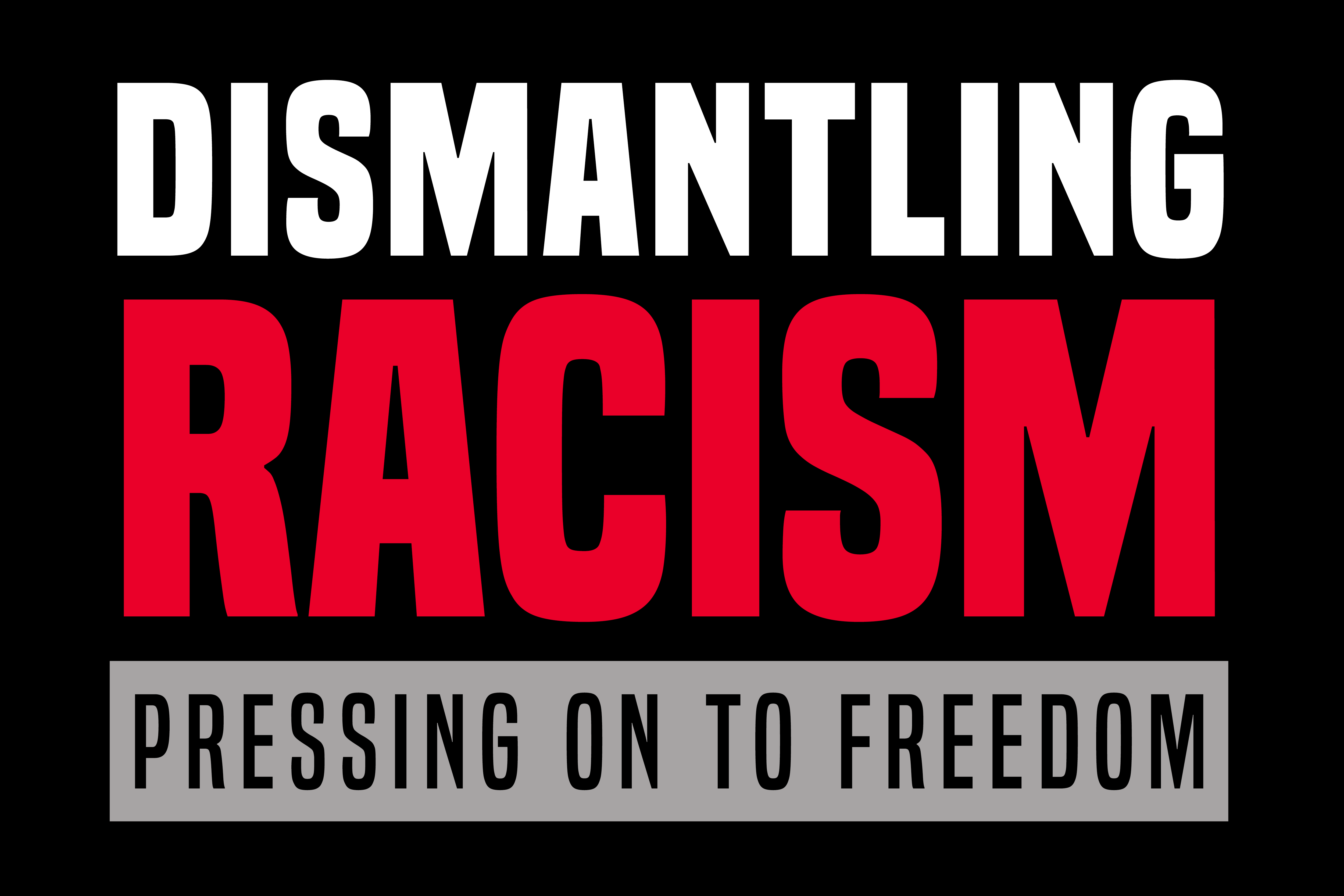 Official logo for The United Methodist Church's "Dismantling Racism: Pressing on to Freedom" initiative. (Image created by United Methodist Communications.)